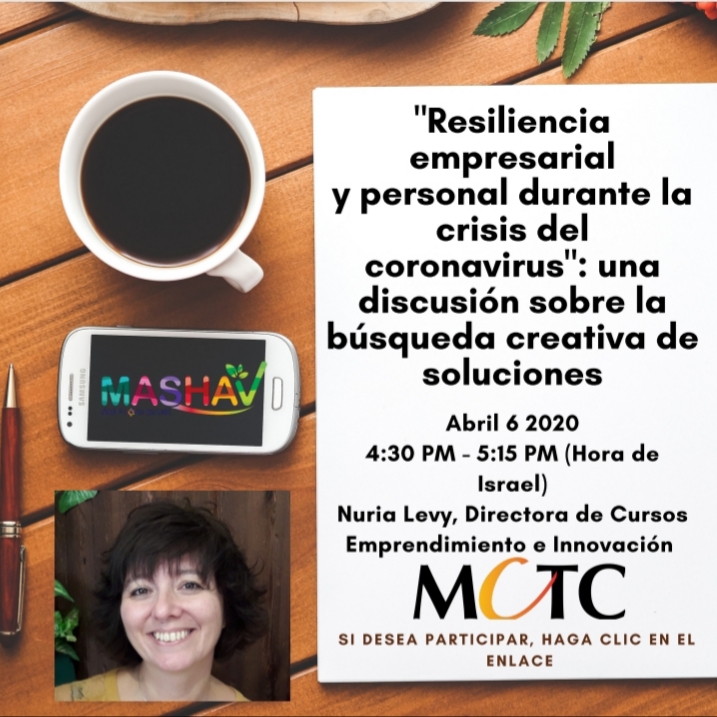 Title -' Resilience and Creativity in your Business: online discussion in SPANISH'
Lecturer - Nuria Levy
Day and time – 06.04 at 16:30
The global crisis due to the Coronavirus outbreak has changed our daily lives in many ways and there is no sector that hasn't been affected. Nuria Levy will conduct an online discussion on "Business and Personal Resilience During the Coronavirus Crisis": A Discussion on Creative Solutions.
La crisis mundial debida al brote de coronavirus ha cambiado nuestra rutina diaria de muchas maneras y no hay sector que no se vea afectado. Nuria Levy llevará a cabo una discusión en línea sobre "Resiliencia empresarial y personal durante la crisis del coronavirus": una discusión sobre la búsqueda creativa de soluciones. Si desea participar, haga clic en el siguiente enlace y regístrese - plazas limitadas
https://docs.google.com/forms/d/e/1FAIpQLSdY7tXwgy4FtLCjDGbOJbhR-X7N3utN...
Zoom link: https://zoom.us/j/798643973…