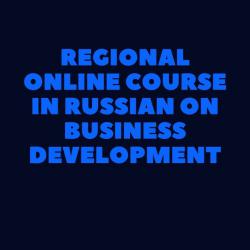 Regional Online course in Russian on Business Development
December 2, 2020 – January 11, 2021
Background
New business skills and knowledge are crucial for success in the business world. Due to the "new normal" and constant changes that younger generations are bringing to the social and the business spheres, the up to date and creative entrepreneur is a central figure to the entire process. The entrepreneur is the driving force in the complex process that transforms a business idea into a commercially viable product or service by using his/her experience, skills and innovative tools. Aims The course aims to impart tools and resources to promote the creation and expansion of businesses through the management of innovation processes and environments, while putting emphasis on the ways to succeed in times of crisis. Target population: The course is designed for women and men alike, business consultants, trainers and mentors, as well as entrepreneurs that are able and willing/planning to provide assistance to other business owners in terms of business development and innovations. We would like to put an emphasis on having a majority of women entrepreneurs in the course.
Main subjects:
• Networking
• Business psychology and profiling
• Business models
• Online business
• Marketing
This program includes 11 meetings. In addition, there will be mentorship sessions organized for those participants interested, who have successfully completed the whole program, including assignments. They will need to complete and send an additional application to participate in a group mentorship session. The application process for the mentorship sessions will be sent separately. Completed application forms should be sent to the relevant Israeli mission in the respective country no later than November 18, 2020.