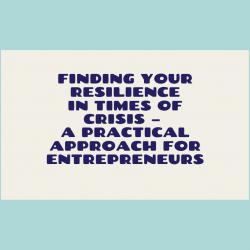 Finding your Resilience in Times of Crisis – A Practical Approach for Entrepreneurs
Time and Date: June 10 - July 01
DESCRIPTION
Appreciative Inquiry (AI) is a strengths-based, positive approach to leadership development and organizational change. It focuses on identifying what is working well, analyzing why it is working well and then applying it to future scenarios. This process can be used by individuals, especially in times of uncertainty, to better understand in which direction they should be investing and what idea they should develop. This program will take on a structured process that will consist of 4 meetings, focusing on the question "In this current state of uncertainty, how can we organize ourselves and push ourselves forward to act?" The purpose of these meetings will be to strengthen our personal resilience, develop personal skills to deal with stress, uncertainty and change, and open a space for spontaneous action.
APPLICANT'S PROFILE
The Course is designed for accelerator's managers and other entrepreneurial support programs managers, as well as those working in governmental institutions and SME support agencies, private sector support systems for entrepreneurs and NGOs dealing with small business support and development. Candidates should have at least three years of professional work experience in related fields. A full command of English is required.
APPLICATION FORM
Application forms can be obtained at the nearest Israeli mission. Please contact the Israeli Embassy in your country for more information. Completed application forms should be sent to the relevant Israeli mission in the respective country.