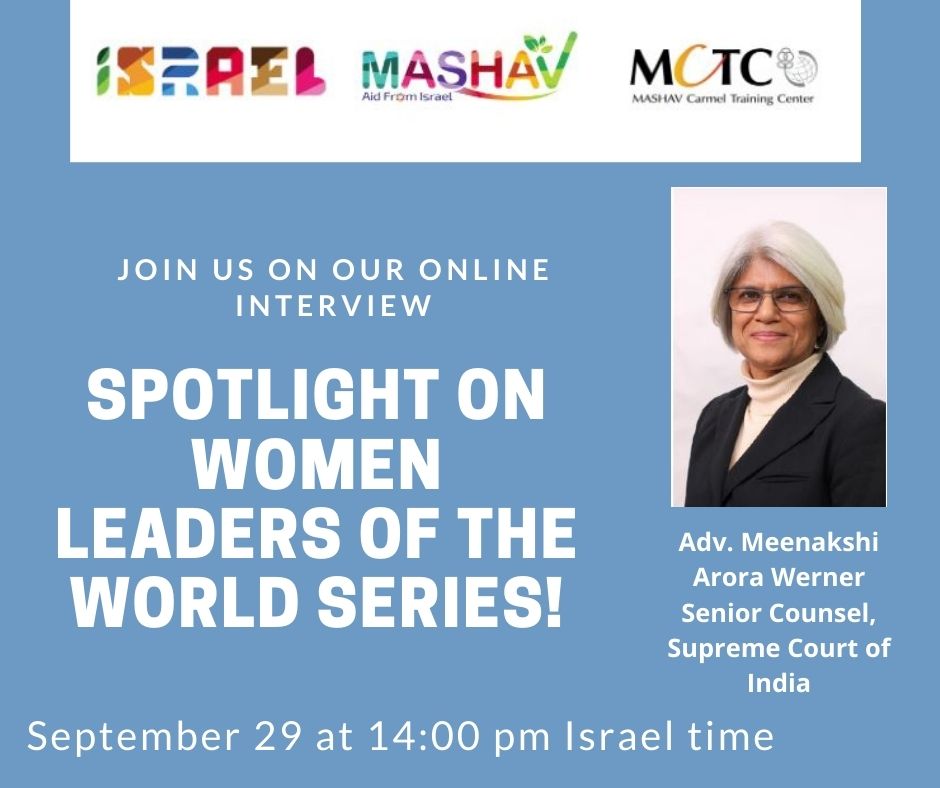 Spotlight on Women Leaders of the World Series
A series of interviews with women leaders across the world. The interview will be streamed online to thousands of attendees worldwide through Facebook Live. The interview is conducted every month and hosts leading women from all aspects of life. The interview is a platform to learn from women who are leading a positive change in society. The interviewee will share their experience on the role of women leaders and women's significant impact on sustainable international development.  
Adv. Meenakshi Arora Werner
Date and time: September 23 at 14:00 Israel time
Meenakshi Arora is a Senior Counsel with a practice of over 30 years before the Supreme Court of India. She has made significant contributions in the field of women's rights. Her efforts in the Vishakha case (1997), wherein the Supreme Court laid down guidelines protecting women against sexual harassment at workplace, has culminated in the enactment of a legislation in 2013. Her inputs in the Sakshi case (2004) resulted in framing of guidelines for examination of child victims of sexual abuse, and have now become law. She also has, to her credit, a large number of path-breaking judgements on diverse aspects of constitutional and human rights, including the right to privacy and electoral reforms. In September 2013, full bench of Supreme Court headed by then Chief Justice of India P. Sathasivam designated her as a senior counsel/senior advocate being only the fifth woman to be designated so.