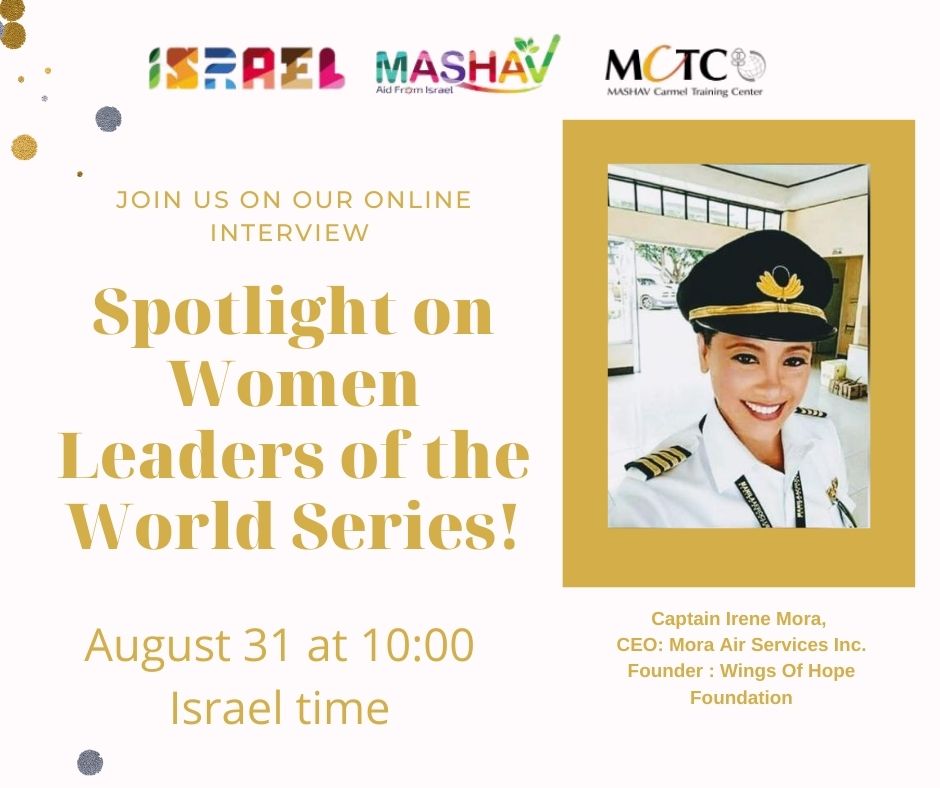 Spotlight on Women Leaders of the World Series
A series of interviews with women leaders across the world. The interview will be streamed online to thousands of attendees worldwide through Facebook Live. The interview is conducted every month and hosts leading women from all aspects of life. The interview is a platform to learn from women who are leading a positive change in society. The interviewee will share their experience on the role of women leaders and women's significant impact on sustainable international development.
Captain Irene Mora
Date and time: August 31 at 10:00 Israel time
Captain Irene Mora is the CEO of Mora Air Services Inc. and a founder of Wings Of Hope Foundation in the Philippines. Capt. Irene is one of the 100 influential Filipina across the globe. Capt. Irene Mora is a Filipina pilot and the pioneering woman who broke many stereotypes in the Philippines by setting a personal example. The first Filipina who went to Zero Gravity and passed the training. She is an outstanding Skydiver who jumped together with the paratroopers in Thailand representing Coast Guard Auxiliary Philippines in 2002, along with the hundred skydivers from around the world, and the only woman who jumped out in a C130 plane. She was awarded by the King of Thailand as one of the most outstanding Woman in the field of Skydiving.
Date:

Location:

Philippines