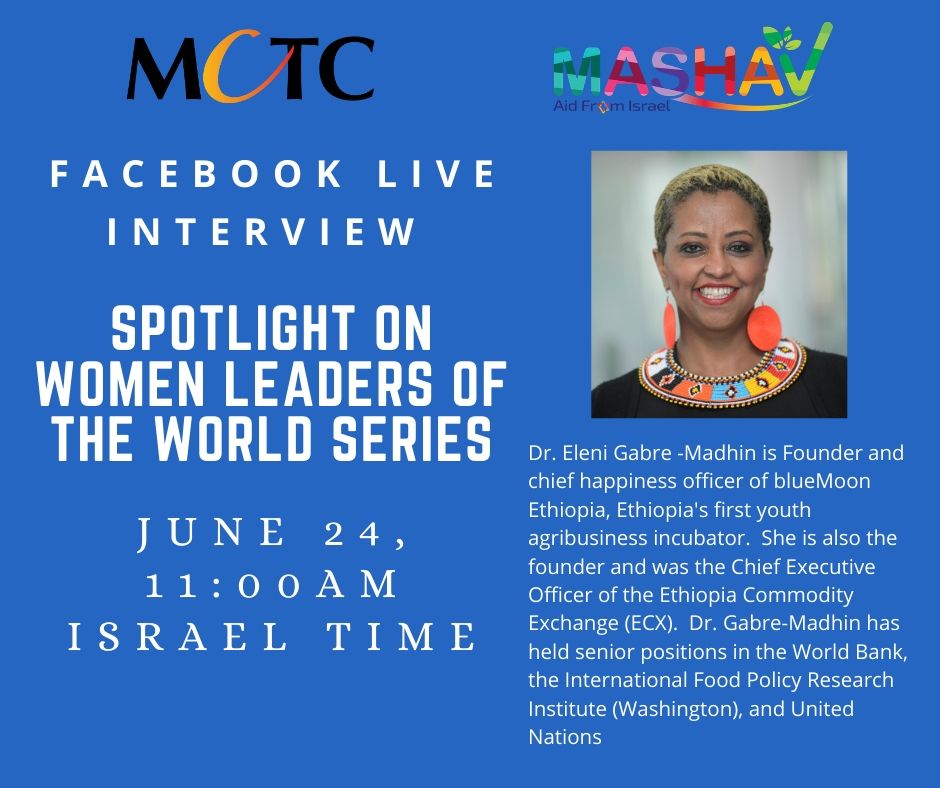 Spotlight on Women Leaders  of the World Series
A series of interviews with women leaders across the world. The interview will be streamed online to thousands of attendees worldwide through Facebook Live. The interview is conducted every month and hosts leading women from all aspects of life. The interview is a platform to learn from women who are leading a positive change in society. The interviewee will share their experience on the role of women leaders and women's significant impact on sustainable international development.
1. Dr. Eleni Gabre-Madhin
Date and time: June 23 at 11:00 am Israel time
Dr. Eleni Gabre-MadhinFounder and chief happiness officer of blueMoon Ethiopia, Ethiopia's first youth agribusiness incubator. She is also the founder and was the Chief Executive Officer of the Ethiopia Commodity Exchange (ECX). Dr. Gabre-Madhin has held senior positions in the World Bank, the International Food Policy Research Institute (Washington), and the United Nations. Dr. Gabre-Madhin has a PhD in Applied Economics from Stanford University, master's degrees from Michigan State University and bachelor's in economics from Cornell University. In 2010 Dr. Gabre-Madhin was selected as "Ethiopian Person of the Year by the Ethiopian newspaper Jimma Times. In 2012, Dr. Gabre-Madhin was also named: one of the 100 Most Influential Africans by New African magazines.
Date:

Location:

Addis Ababa, Ethiopia