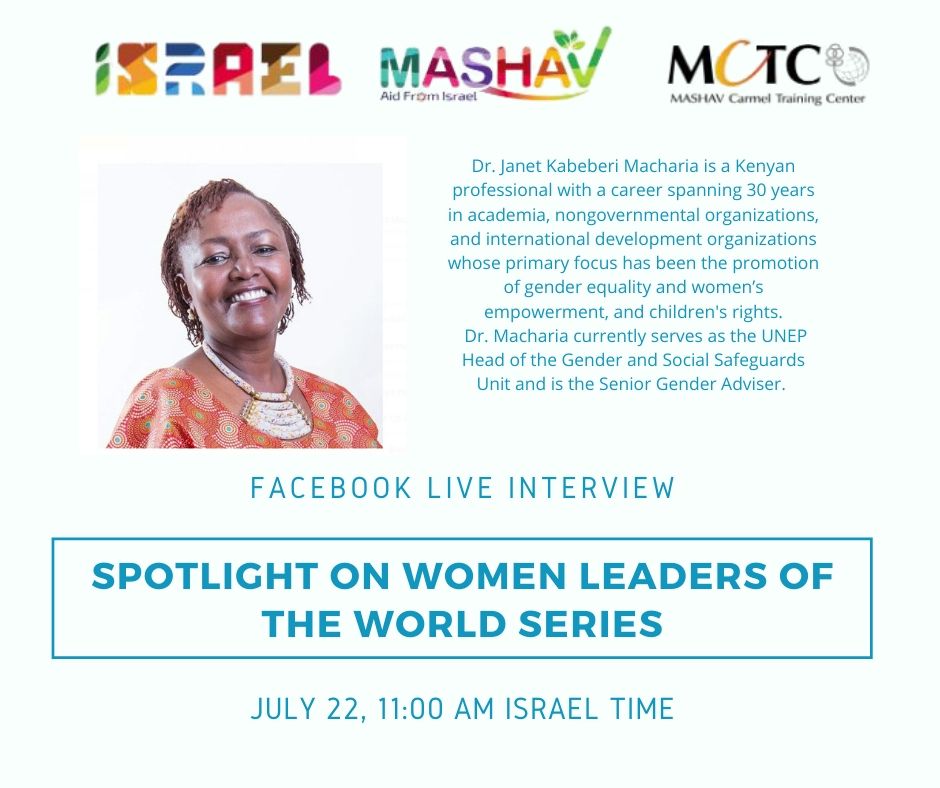 Spotlight on Women  Leaders of the World Series
A series of interviews with women leaders across the world. The interview will be streamed online to thousands of attendees worldwide through Facebook Live. The interview is conducted every month and hosts leading women from all aspects of life. The interview is a platform to learn from women who are leading a positive change in society. The interviewee will share their experience on the role of women leaders and women's significant impact on sustainable international development.
2. Dr. Janet Kabeberi Macharia
Date and time: July 22 at 11:00 am Israel time
Dr. Janet Kabeberi Machariais the UNEP Head of the Gender and Social Safeguards Unit and is the Senior Gender Adviser. At UNEP, she has focused on systematic integration of gender in UNEP's operational work, alongside efforts to strengthen institutional recognition of operational responsibilities and greater accountability for gender work by management and staff. From 2001 to 200j7, Janet worked for UNDP as the Regional Gender and Development Specialist located within the Regional Service Centre in Johannesburg, South Africa, covering 23 UNDP country offices in the East and Southern Africa region. Before joining UNDP, she was the National Programmes Officer for UNIFEM Regional office for the Eastern African based in Nairobi Kenya. Prior to joining the UN in 1997, Janet was employed as a Senior Lecturer at the Faculty of Law, University of Nairobi, for a period of ten years. Janet is a lawyer by profession and holds a PhD in Law from the University of Warwick and Master of Laws from Columbia University and an LL.B from the University of Nairobi. Her career spans academia, non-governmental organizations, and international development organizations and she has over 25 years' experience in research, training, implementation, monitoring and evaluation of rights based programmes.
Date:

Location:

Nairobi, Kenya