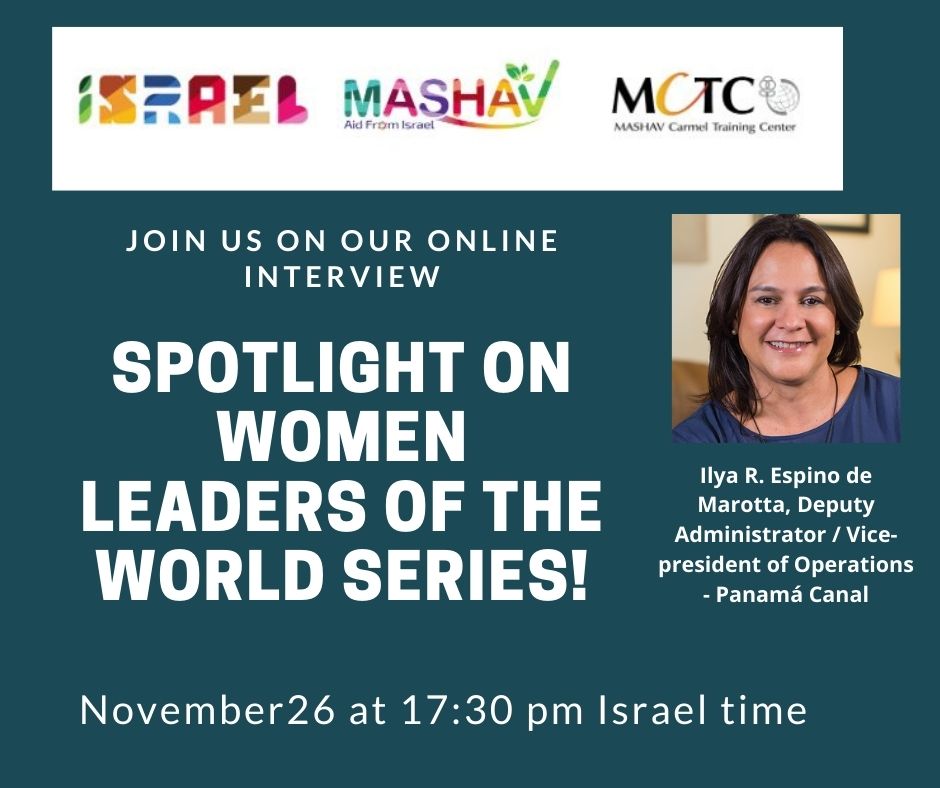 Spotlight on Women Leaders of the World Series
A series of interviews with women leaders across the world. The interview will be streamed online to thousands of attendees worldwide through Facebook Live. The interview is conducted every month and hosts leading women from all aspects of life. The interview is a platform to learn from women who are leading a positive change in society. The interviewee will share their experience on the role of women leaders and women's significant impact on sustainable international development.
Engineer Ilya R. Espino de Marotta
Deputy Administrator and COO of the Panama Canal Authority, Panama
Date and time: November 26 at 17:30 Israel time
Engineer Espino de Marotta is an engineer best known for leading the Panama Canal Expansion Project as Executive Vice President for Engineering in the Panama Canal Authority. Engineer Espino de Marotta was appointed to the role in 2012 and was the first woman in the history of the Panama Canal Authority to hold the role. Obtained her Marine Engineer degree from Texas A&M, and her Master in Economic Engineering from the Universidad Santa María La Antigua. Has worked for the Panama Canal for over 30 years in various positions. In the execution of her responsibilities, has been recognized several times with several awards of excellence for her contribution to various programs. Espino de Marotta was awarded "Outstanding Woman of the Year" in 2014 by the Panamanian Association of Business Executives. And also Forbes Magazine included her in its list of the 50 most powerful women in Central America and featured on the magazine cover.
Date:

Location:

Panama City, Panama