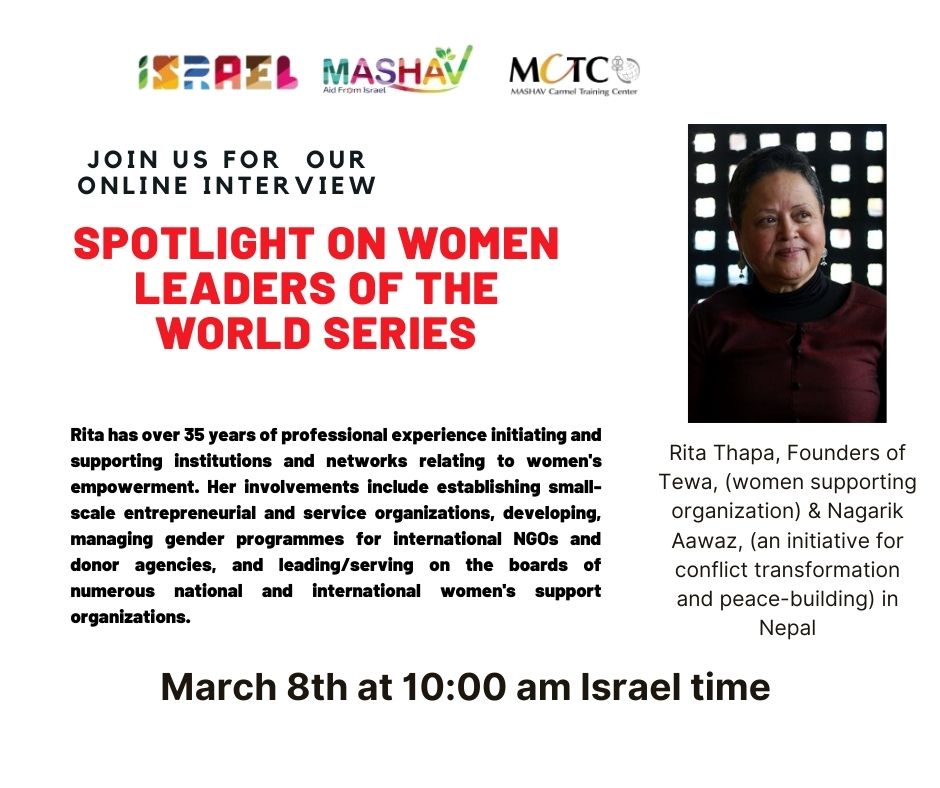 Spotlight on Women Leaders of the World Series
A series of interviews with women leaders across the world. The interview will be streamed online to thousands of attendees worldwide through Facebook Live. The interview is conducted every month and hosts leading women from all aspects of life. The interview is a platform to learn from women who are leading a positive change in society. The interviewee will share their experience on the role of women leaders and women's significant impact on sustainable international development.
Interview with Rita Thapa
Date and time: March 8th, 2021
Rita Thapa, Founders of Tewa, www.tewa.org.np & Nagarik Aawaz, www.nagarikaawaz.org.np in Nepal. Rita has over 35 years of professional experience initiating and supporting institutions and networks relating to women's empowerment. Her involvements include establishing small scale entrepreneurial and service organizations, developing, managing gender programmes for international NGOs and donor agencies, and leading/serving on the boards of numerous national and international women's support organizations. Rita has extensive background in building networks among government, academic, and non-government institutions. Has demonstrated competence in institutional building, analysis & development, project/programme design, planning, and management, and in training methods and facilitation skills.
For the last over 25 years, she is acknowledged/invited as a resource person in feminist leadership, peace and development forums internationally and regionally. Rita is recognized for her groundbreaking work in founding and grounding the Nepal women's fund 'Tewa' (www.tewa.org.np) and the peace building organization Nagarik Aawaz ( www.nagarikaawaz.org ), specializing in developing local community philanthropy for self-reliant development and women's empowerment in Nepal, and peace building work during heightened civil war in Nepal respectively. She is also instrumental in helping found other women's networks for peace like Shantimalika and Sankalpa.