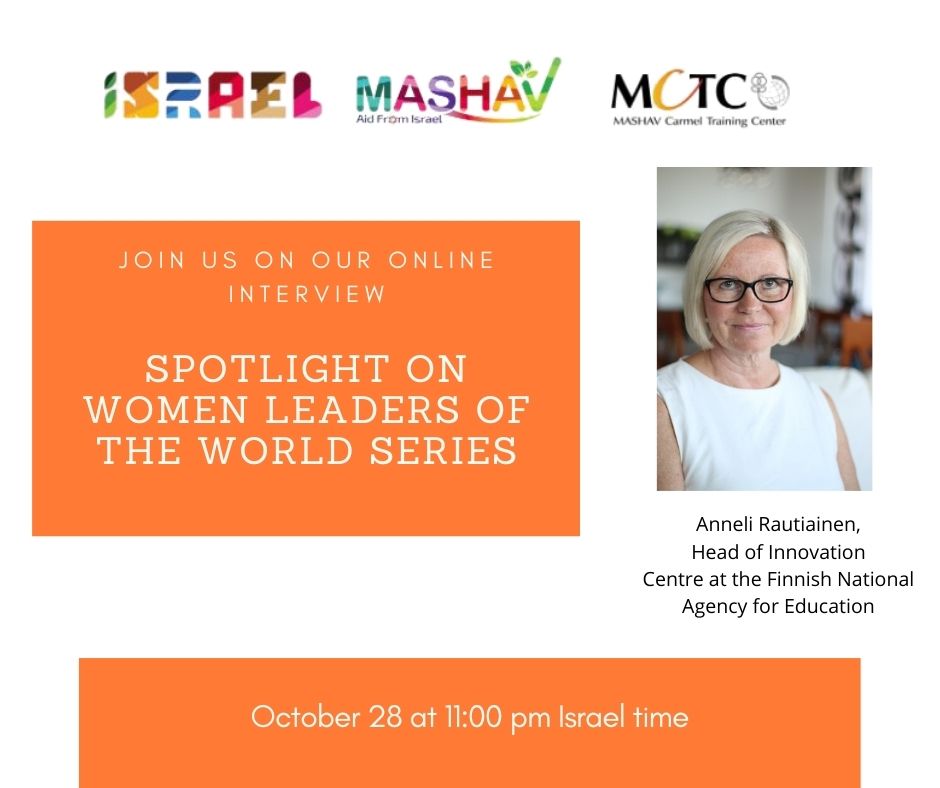 Spotlight on Women Leaders  of the World Series
A series of interviews with women leaders across the world. The interview will be streamed online to thousands of attendees worldwide through Facebook Live. The interview is conducted every month and hosts leading women from all aspects of life. The interview is a platform to learn from women who are leading a positive change in society. The interviewee will share their experience on the role of women leaders and women's significant impact on sustainable international development.
Anneli Rautiainen
Date and Time: October 28 at 11:00 Israel time
Anneli Rautiainen is the Head of Innovation Centre at the Finnish National Agency for Education. The Innovation Centre is part of larger transformation effort towards more nimble governance at the national and local level – with the goal of being able to provide better services through experimenting and innovating. The Centre is the first agency-level innovation unit in Finland, an experiment of itself. Anneli Rautiainen has graduated from Helsinki University with Master´s in Education. Prior to this position at the Innovation Centre since 2017, she has been developing Finnish education as a teacher and a principal, in addition as a head of General Education, ECEC and professional development of education personnel at the government level. Mrs. Rautiainen has been a keynote speaker and panelist in over 25 countries and five continents at various international conventions. She has been a member of international education networks; ISC, GELP, NPDL, ITE and ARC. She is a member of OECD Education2030 Working Group and a member of OECD High Performing Systems for Tomorrow, HPST -group. She was also a participant of Mashav´s 30th International Women Leaders Conference in Israel in 2018.
Date:

Location:

Helsinki, Finland