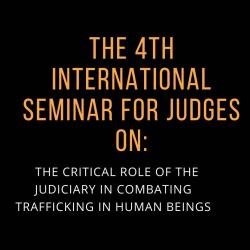 The 4th International Seminar for Judges on:
THE CRITICAL ROLE OF THE JUDICIARY IN COMBATING TRAFFICKING IN HUMAN BEINGS
In cooperation with:
OSCE - The Organization for Security and Co-operation in Europe
UNODC - The United Nations Office on Drugs and Crime
ILO - The International Labor Organization
The National Anti-Trafficking Unit, Israeli Ministry of Justice
The Center for Judicial Education and Training, Israel
United States Embassy, Jerusalem, Israel
14 - 18 October 2018
Haifa and Jerusalem, Israel
Language: English
As in previous years, the seminar tackled the critical role of the judiciary in combating human trafficking which is a global phenomenon affecting millions of people worldwide, especially women and children. Held in Israel for the 4th time together with international and national partners including OSCE*, UNODC**, ILO***, the National Anti-Trafficking Unit, Israel's Ministry of Justice, The Center for Judicial Education and Training and the United States Embassy in Jerusalem. One of the aims of the seminar was to establish a network of justices and judges in order to nurture cross-border collaboration and exchange of information, legislation and best practices in the fight against human trafficking.
* Organization for Security and Co-operation in Europe
** United Nations Office on Drugs and Crime
*** The International Labour Organization
[[{"fid":"847","view_mode":"default","attributes":{"alt":"mctc","title":"mctc","class":"media-element file-default","data-delta":"1"},"fields":{"format":"default","alignment":"","field_file_image_alt_text[und][0][value]":"mctc","field_file_image_title_text[und][0][value]":"mctc"},"type":"media","field_deltas":{"1":{"format":"default","alignment":"","field_file_image_alt_text[und][0][value]":"mctc","field_file_image_title_text[und][0][value]":"mctc"}}}]]
Date:

-

Location:

Haifa, Israel