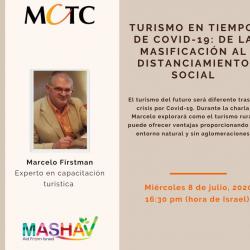 Title: " Turismo en tiempos de COVID-19: De la masificación al distanciamiento social"
"Tourism in times of COVID-19: From overcrowding to social distancing" (Spanish)
Date and time: July 08 at 16:30 Israel time
Lecturer: Marcelo Firstman, Experto en Capacitación Turística (Tourism training expert)
About the lecture:
El turismo del futuro será diferente tras la crisis por Covid-19. Durante la charla Marcelo explorará como el turismo rural puede ofrecer ventajas proporcionando un entorno natural y sin aglomeraciones. The tourism of the future will be different after the Covid-19 crisis. During the talk, Marcelo will explore how rural tourism can offer advantages by providing a natural environment without crowds.
Zoom link: https://us02web.zoom.us/meeting/register/tZUkcOGrqjIoHtPYhQ-awyL6xsDU6I…