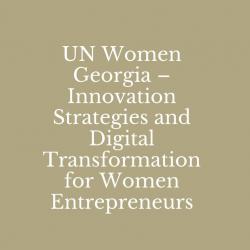 UN Women Georgia – Innovation Strategies and Digital Transformation for Women Entrepreneurs
Date: February 4 – 25, 2021
OBJECTIVE
The objective of the course is to provide participants with an overview to the uniqueness of Israel's entrepreneurial ecosystem, its innovation processes and methodologies. This course will provide participants with skills and knowledge on areas such as innovation strategies, brand building, team building, creativity and digital transformational tools.
EXPECTED RESULTS
At the end of the course, the participants will have: · Analyzed the key factors related to fostering an innovative culture in the business environment. · Valued methodologies, tools and specific instruments. · Worked with tools that allows them to undertake innovation processes as factors to increase the productivity and competitiveness of their organizations.
METHODOLOGY
The course will combine theoretical elements through online lectures and group exercises focused on developing digital strategies off-line. The methodology to be used requires that the participants, in addition to the regular hours of participation in the online sessions, dedicate additional time to fulfill the assigned tasks. Full participation will be required to receive certification.
APPLICANT'S PROFILE
The Course is designed for women entrepreneurs/startuppers or those women who plan to launch and/or expand their businesses and apply innovative solutions and digital transformation tools. The course is also suitable for organizations, which work on women's empowerment through digital technologies. A sound command of English is required.