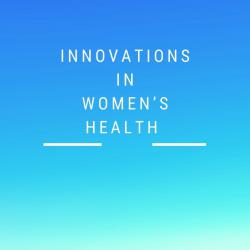 Innovations in Women's Health
Date: October/November, 2020
Background
Women's health today is under-served from an innovation and clinical science standpoint with outdated practices and a lack of much-needed attention from key stakeholders (including investors and insurers). It is imperative to develop the eco-system, shift mindsets and embrace the holistic women-centered approach in health services. Women's Health still has many unmet clinical needs, however, new ideas and technologies are being developed rapidly and are shaping the very nature of Women's Health. As we envision the future, we should address women's health in ways to predict, prevent, diagnose, treat and follow up using next generation technologies. This will not be achievable unless healthcare professionals come together in order to share knowledge, research and the latest innovations. The state of Israel has succeeded in meeting challenges in the field of healthcare, due to a combination of innovation, technology, and national commitment, including policies and funding. These topics will be explored during the proposed course.
Aims
• To broaden the understanding of the gender aspect and inequality in access to health care services for women
• To spread awareness and provide tools and skills for creating better health care services, policies and management of those services
• To view Israel's models for accessing health care services for women. Main Subjects • Innovative solutions to improvement of health care
• Health Services Access: current initiatives to improve management of health services
• Maternal and Child Health: offering solutions for women
• Psycho-social support for women living with oncological diseases
• Management of Health Services
Target population:
The course targets participants that are professionals in the health management arena such as physicians, nurses, social workers, government officials from relevant ministries, and health management NGOs. Participants will need access to all of the technology needed for a webinar (computer, video, microphone, speakers, and a stable internet connection) and participants will be expected to participate fully in every session. A convenient, quiet and adequate working environment is extremely important.
Methodology
The course will use the Zoom platform for meetings and group work enabling participants to interact with each other with the aim of creating an effective network of like-minded professionals. Completed application forms should be sent to the relevant Israeli mission in the respective country no later than September 24, 2020.