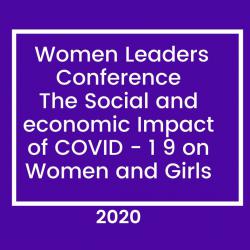 International Women Leaders e-Conference The Social and economic Impact of COVID - 1 9 on Women and Girls
Organized by: MASHAV Israel's Agency for International Cooperation at the Ministry of Foreign Affairs
Time and date: July 27 - 28, 2020 at 15:00 Israel Time (8:00 EST)
Language: English
The International Women Leaders Conference celebrated women leaders from all walks of life. This year's special e-conference will analyse the socio-economic effects of the COVID-19 pandemic and provide a platform for leading women from all over the world to discuss the impact of COVID-19 on women and girls. Participants will include heads of state, senior policymakers, Ministers and MPs, leading figures from all walks of life including the socio-economic sphere, the media, business and the private sector, as well as high-ranking representatives from the academia, international NGO's and UN organisations, specialized agencies and programmes.
 List of Particpants
Panel 1: Analyzing the Global Economic Impact of COVID-19 on Women and Girls
- Hon. Henrietta H. Fore, Executive Director, The United Nations International Children's Fund - UNICEF
-  Hon. Olga Algayerova, Executive Secretary of the United Nations Economic Commission of Europe - UNECE
- Hon. Åsa Regnér, Deputy Executive Director, The United Nations Entity for Gender Equality and the Empowerment of Women - UN WOMEN
- Prof. Frances Raday, Professor of Law, Hebrew University; Formerly: Special Rapporteur, UN Human Rights Council; Expert Member - CEDAW
Panel 2: Everyone Included: Social Impact of COVID-19
- Hon. MP Esther M. Passaris, Women Representative for Nairobi County, Kenya
- Hon. Mercedes Eleta Brenes, President STRATEGO Strategic Communications and Promotion of Social Responsability, Panama
-  Hon. Angela Mwai, Acting Chief, Human Rights and Social Inclusion Unit,The United Nations Human Settlements Programme - UN HABITAT
-  Hon. Dr. Usta Kaitesi , CEO-Rwanda Governance Board, Rwanda
Panel 3: Social-Economic Implications, and Gender Responsive Policies
- Hon. Mila Carovska, Deputy Prime Minister of the Government for Economic Affairs, Republic of North Macedonia
- Hon. Dr. Aminata Toure,Former Prime Minister; President, Economic Social and Environmental Council, Senegal
- Hon. Beth Bechdol, Deputy Director General, The Food and Agriculture Organization of the United Nations - FAO
- Hon. Christine Musisi, Resident Representative, United Nations Development Programme - UNDP
- Hon. Dr. Janet Kabeberi Macharia, Senior Advisor, Gender & Safeguards Unit, United Nations Environment Programme - UNEP
Panel 4: Building Resilience through Cooperation and Partnerships
- Hon. Marta Lucia Ramirez de Rincón, Vice President of the Republic of Colombia, Colombia
- Hon. Shirley Ayorkor Botchway, Minister of Foreign Affairs, Ghana
- Hon. Dr. Zsuzsanna Jakab, Deputy Director-General, World Health Organization - WHO
- Hon. Doreen Bogdan-Martin, Director of Telecommunication Development Bureau, International Telecommunication Union - ITU
- Hon. Mario Pezzini, Director of Development Centre, Organisation for Economic Cooperation and Development - OECD
 The pandemic of COVID-19 is amplifying gender inequalities that already exist in every sphere, including, economic, health, security, social protection, and development. Furthermore, the lockdown is being shown as devastating for women and girls. This e-conference will analyze and review the current impact COVID-19 has on women and girls and will highlight global and national strategic plans and innovative measures to respond to these challenges. It will provide a forum to discuss topics such as: social and economic distress, less access to social protection, gender-based violence, disruption in education, unequal access to technology and the digital gender divide, the reallocation of health resources and more. We will also look towards the future for cooperation post COVID-19, to promote world gender equality.
Date:

-

Location:

Haifa, Israel