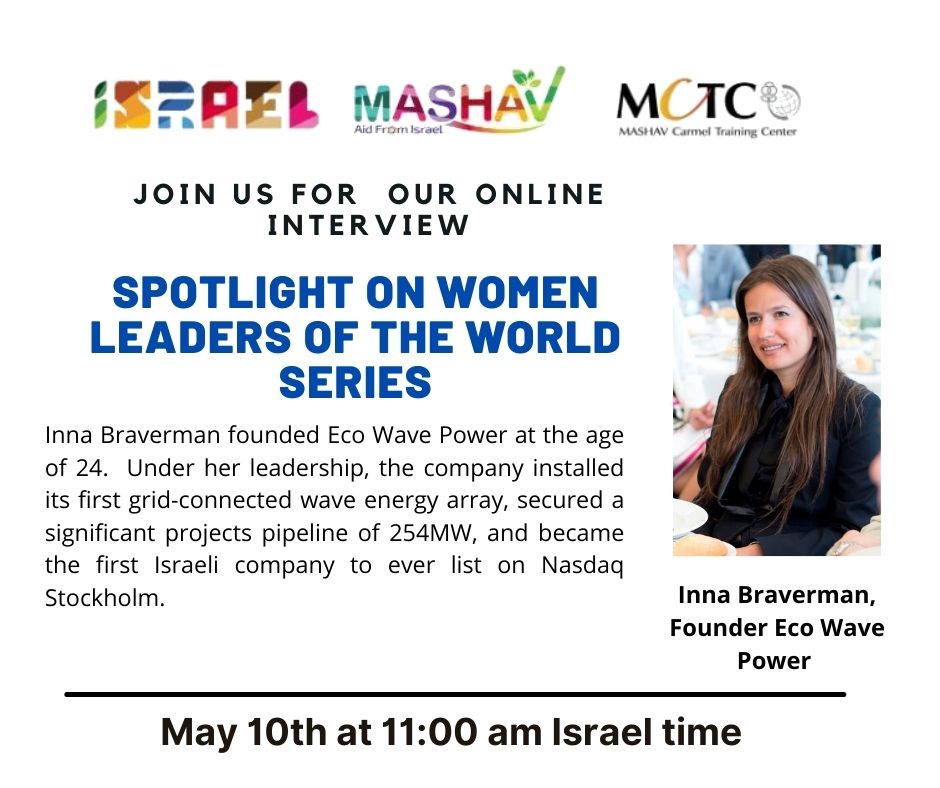 Spotlight on Women Leaders of the World Series
A series of interviews with women leaders across the world. The interview will be streamed online to thousands of attendees worldwide through Facebook Live. The interview is conducted every month and hosts leading women from all aspects of life. The interview is a platform to learn from women who are leading a positive change in society. The interviewee will share their experience on the role of women leaders and women's significant impact on sustainable international development.
Interview with Inna Braverman
Date and time: May 10th, 2021
Inna Braverman founded Eco Wave Power at the age of 24. Under her leadership the company installed its first grid-connected wave energy array, secured a significant projects pipeline of 254MW, and became the first Israeli company to ever list on Nasdaq Stockholm. She was recognized by Wired Magazine as one of the "Females Changing the World", by Fast Company as one of the world's "Most Creative People in Business for 2020" and is the winner of the United Nations "Global Climate Action Award". For Inna, clean electricity is a very personal journey, as she was born two weeks before the Chernobyl Nuclear Disaster and suffered respiratory arrest due to the pollution in the region. Luckily, her mother, a nurse, came to her crib on time and gave her a mouth to mouth respiration, which saved her life. She got a second chance in life and decided to devote it to the development of a clean and safe method of electricity production.