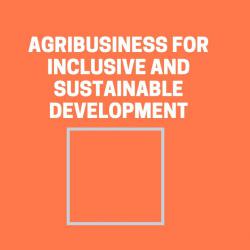 International Seminar: Agribusiness for Inclusive and Sustainable ‎Development
In partnership with UNIDO – United Nations Industrial Development Organization
8 - 20 December 2019
About the Seminar
 The agricultural sector and food production have been among themain pillars of the Israeli economy since Israel's declaration of independence, with the investment of substantial funds for continuous research and development. Israel's success branches from the resolve andcreativity of farmers and scientists that have dedicated their lives todevelop agriculture in a mostly desert country, demonstrating that the realvalue of the land lies on how it is used. However, over the last few years,the number of active farmers in Israel has been drastically reduced. There is a continuous exit of small farmers from business, due tothe limitation of land and water and an ever increasing trend away fromfarming to other professions. Today's farmers need to adapt to this challengeby making the required transition from being simple producers to becoming managers of an agricultural enterprise, armed with the latest technologies and know-how, as well as an understanding of the market. Agricultural diversification, coupled with intensive Research and Development and effective up-to-date extension services for rural farms, will prevent the transformation of additional farming lands for non-agriculturaluse and keep farmers and rural professions in business. As technology andintensive agricultural methods change the conditions of agriculturalproduction, farmers need to explore other alternatives in order to remain inthe rural areas. Taking into account current trends, Israel is ready to share itsrich experience in agribusiness for long term sustainability.
Aims
The proposed training program aimsat contributing to inclusive economic empowerment by exploring agricultural entrepreneurship comprising all segments of society and stakeholders considering the adaptability of methods and technologies, to meet local conditions in each participant's country. The participants will be exposed to the variousaspects of planning, development, and management of small businesses inagro-industries, so that by the end of the course they are able to:
· Adopt advance technologies to generategreater share of value added
· Exchange know-how on different tools for fostering women's entrepreneurial potential
· Initiate, organize, and managesmall agribusiness projects
· Widen their knowledge of supportsystems for small-scale entrepreneurs as a tool for regional and localdevelopment
Program Topics
· Marketing and Branding for Agribusiness
· Achieving Women's Empowerment Through Agribusiness
· Support systems in Israel and bestpractices in promoting agro-entrepreneurship
· Tools for Community Development and Farming Organizations
· New trends in modern agriculture (technological advancements, nutritional concerns, water/energy management)
· How agribusiness can find solutions to economic, social, and environmental problems · Sustainable agriculture and the Sustainable Development Goals (SDGs)
Application Requirements
This seminar is geared towards advanced and influential professionals,practitioners and policymakers involved in agriculture and rural development,as well as experienced representatives of the agriculture private sector.Candidates should hold a senior position, an academic degree in related disciplines and have at least five years of professional work experience inrelated fields. Age requirements 25 to 55 years old. Participants will be selected by UNIDO from UNIDO's projects worldwide. A full command of English is required.
Application forms
Application forms and other information may be obtained at the nearest Israeli mission or at MASHAV's website.