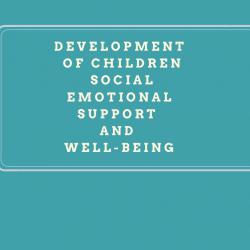 International Course on: Development of Children: Social-Emotional Support and Wellbeing
In cooperation with the the University of Haifa
January 28 – February 16, 2018
Language: English
OBJECTIVE
We know that access to quality early childhood education and care helps narrow the poverty gaps and ensure that children live to their full potential. Early childhood care plays an important role in children's development and provides a valuable support to families with young children. The emotional, social and physical development of young children has a direct effect on their overall development and on the adult they will become. That is why understanding the need to invest in very young children is so important, and to maximize their future well-being. In cooperation with the Center for the Development of the Child at the University of Haifa, and through introductory lectures, professional study visits, observations, workshops, and discussions, participants were exposed to services and organizations in Israel that support children and their families. Participants discussed with experts the importance of early detection and intervention for children in need of extra support. They also gained insights and reflected on the role of the caregiver, educator, therapist, social worker, community worker and health caregiver in offering support to families and children. Group members prepared and presented final projects that could serve as a basis for future implementation in their respective countries.
Application Requirements
This course is geared towards advanced and influential professionals,practitioners and policymakers involved in education and development.Candidates should hold a senior position, an academic degree in relateddisciplines and have at least five years of professional work experience inrelated fields. Age requirements 25 to 55 years old. A full command of Spanish is required.
Application forms
Application forms and other information may be obtained at the nearest Israeli mission or at MASAHV's website.