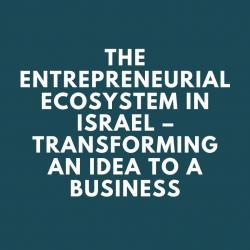 The Entrepreneurial Ecosystem in Israel – Transforming an Idea to a Business
Regional Seminar: The Visegrad Countries
About the Seminar
The seminar is custom-made for The Visegrád Group (V-4): the cultural and political alliance of four Central European states – the Czech Republic, Hungary, Poland, and Slovakia. This seminar will provide V-4 entrepreneurs with a better understanding of the Israeli innovation ecosystem and be equipped with practical tools on how participants can influence their entrepreneurial ecosystem in their country.
Aims
This seminar will provide participants with skills and knowledge on how to build a platform that supports entrepreneurs, and will give practical tools on how to develop an ecosystem and building a community.
Application Requirements
The Seminar is designed for women and men alike, early stage entrepreneurs, managers of accelerators and other entrepreneurial support programs, as well as those working in governmental institutions and SME support agencies, private sector support systems for entrepreneurs and NGOs dealing with small business support and development. Candidates should hold an academic degree in related disciplines, and have at least five years of professional work experience in related fields. A full command of English is required.