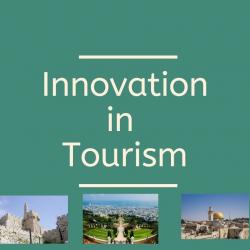 International Coure on: Innovations in Tourism
April 22 – May 11, 2018
Language: Spanish
About the Course
The creation of tourism ventures has a positive and multiplyingeffect on the national economy. Tourism provides not only material benefitsbut also cultural pride, awareness of the community about the environment andits economic value, as well as creation in the diversification of sources ofincome. Nowadays, social networks play a very important role in thetourism sector. The dissemination of data, messages, opinions and imagesthrough digital platforms, as well as the new models of informationmanagement that are now possible, are an important part of the intelligenceand communication system of a tourist destination. The Israeli authorities recognize the fundamental value oftourism in the domestic economy of the country, supporting the creation ofventures and micro-undertakings related to tourism. Israel has the proven ability to turn ideas into innovativeproducts and services. It is within this framework that the presentinternational course is offered to share the Israeli experience in thesubject and exchange knowledge with the future participants of the course andpromote tourism ventures as an economic solution.
Objetives
At the end of the course, the participants will have:
· Analyzed the factors relevant tothe development of tourism in urban and rural areas
· Examined the existing potentialfor the creation of new sources of income
· Exchange of experiences amongrepresentatives of different countries and functions on the needs of themicroenterprise and possible solutions in different areas of Latin America
· Known the Israeli experience inthe subject
· Prepared a proposal for thegeneration of income through tourism Main Topics
· Current approaches to tourismdevelopment
· Microenterprise support systems,business support networks
· Social media strategies
· Ecotourism and sustainability
· Analysis of existinginfrastructure and resources
· The social impact of rural tourismdevelopment
· The integration of women in thebusiness world
· Marketing
· The Israeli experience in tourism
· Tourism in the countriesrepresented
· Study visits and meetings withmicro-entrepreneurs
Application Requirements
The program is intended for 26 people who have completeduniversity studies in tourism development, planning, economics, businessadministration or areas related to the subject of the course. Applicantsshould currently be involved in: planning and developing national or regionalpolicies to support job creation; tourism planning or promotion of women inthe business field. They should now belong to governmental or non-governmentalinstitutions or other bodies involved in the development of microenterpriseand the empowerment of women. A minimum experience of 5 years is required.
Application forms
Application forms and other information can be obtained from the nearest Israeli diplomatic representation, or at the MASHAV website.