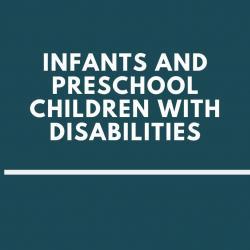 International course on: Infants and Preschool Children with Disabilities
7 – 26 January 2018
Language: Spanish
OBJECTIVE
This course is dedicated to professionals in the field of preschool education: teachers, psychologists, social workers, therapists, university professors, supervisors of the Ministry of Education, etc. In Latin America, the existing problem regarding the integration / inclusion in regular settings of children with disabilities is much debated in all countries, both for its advantages and disadvantages. The main objective of this course is the importance of being able to start working with children from an early age, which is very important when the child has a disability. Manage and implement strategies according to the resources available in each country, to provide quality of life for the child to achieve independence.
Application Requirements
This course is geared towards advanced and influential professionals,practitioners and policymakers involved in education and development.Candidates should hold a senior position, an academic degree in relateddisciplines and have at least five years of professional work experience inrelated fields. Age requirements 25 to 55 years old. A full command of Spanish is required.
Application forms
Application forms and other information may be obtained at the nearest Israeli mission or at website.