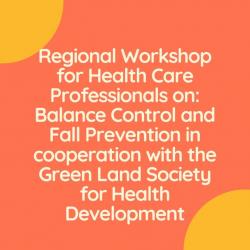 Regional Workshop for Palestinian Health Care Professionals on: Balance Control and Fall Prevention
In cooperation with the Green Land Society for Health Development
February 18th– 22nd
Language: English
Background
In 2008, The Green land Society for Health and Development partnered with the American Jewish Joint Distribution Committee, the Golda Meir Mount Carmel International Training Center, and MASHAV to offer the first workshop providing both Palestinian and Israeli physical therapists with specialized training in their field. The pilot course proved so successful that the Green Land Society, MCTC, and MASHAV have offered additional courses from the years 2011 until now. Following the success of past workshops, it was decided to continue and enlarge the scope of our training activities in order to create additional opportunities for Palestinian professionals who have few opportunities for specialized learning. Physiotherapy is a relatively new profession in the Palestinian Authority. Approximately 700 registered physiotherapists and physiotherapy assistants are graduates of the three West-Bank universities. Specialized training enables therapists to provide a competitive service for their pediatric, orthopedic, and elderly patients.
This course's focus is on "Balance Control and fall prevention". In order to improve quality of life and reduce disability and dysfunction in old age, preventive and rehabilitation intervention for improving balance is required. Since the demographic data indicate that the populations of the world are aging, improving the quality of life in the elderly population is no less important than prolonging their life. Control of balance is reduced due to ageing process and inactivity. Balance is the basis of a person's ability to move, without proper balance control, a person's independent activities are very low. Thus, improving balance and preventing falls will necessarily improve the functioning and quality of life of the elderly. This course was designed in order to familiarize participants with the science of balance control, the possibilities for restoring the elderly's balance, preventing deterioration, diagnosing older adults in a risk for falls, and recognizing evidence based interventions that have been proven to improve balance, functioning, quality of life and reduce falls and injury among the elderly (including Health expenses for health services). The course consists of a series of lectures, as well as demonstrations and practical exercises of methods to improve balance. The course's target participants are physiotherapists from the Middle East who must be certified and 3 years work experience. 
Course Aim
The course content will help improve quality of life and reduce disability and dysfunction in old age, and include preventive and rehabilitation intervention techniques for improving balance.
Application
All applications must be submitted  to the nearest Israeli mission serving the applicant's country.
Application forms
Application forms and other information may be obtained at the nearest Israeli mission or on MASHAV's website.