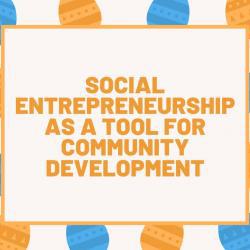 International Course on: Social Entrepreneurship as a Tool for Community Development
In cooperation with UNECE - United Nations Economic Commission for Europe
2 - 31 July 2018
Language: French
 Aims
This seminar will provide participants with skills and knowledge on how to build a platform that supports entrepreneurs in their early stages, and will give practical tools on how to develop a roadmap for success and building a community.
Training Modules are;
•Supporting Start-ups in paving a way to success (Scale Up)
•Introduction to Business Accelerators and Business Incubators
•Ecosystem and community development (building a network of partners and investors)
Application Requirements
The Course is designed for womenand men alike, focusing mainly on entrepreneurs and start up owners. Aspecial Consideration will be given to Managers of accelerators and otherentrepreneurial SME support agencies, private sector support systems forentrepreneurs and NGOs dealing with small business support and development ofentrepreneurs in their communities. Candidates should hold an academic degreein related disciplines, and have at least five years of professional workexperience in related fields. A full command of English is required.
Application forms
Application forms and other information may be obtained at the nearest Israeli mission or at website.