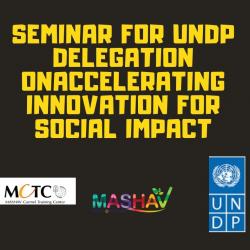 Seminar for UNDP Delegation on Accelerating Innovation for Social Impact
24-29 November
Cooperation: UNDP
Language: English
About the Course
As part of MASHAV's long term cooperation with UNDP we were delighted to collaborate on this innovative seminar. It offered participants a glimpse into the Israeli ecosystem, dealing into topics such as support frameworks for entrepreneurs, impact investment, models of social entrepreneurship, corporate responsibility, and examples of innovative startups that bring positive change.
OVERVIEW
The Israeli entrepreneurial ecosystem and its innovation are an inspiring example to many countries in the world. The State of Israel, despite its small size, in a home for international companies and corporations, skilled entrepreneurs, many start-ups, potential investors, and more. At the same time, Israel has a well-established entrepreneurial support systems, such as accelerators, incubators, which provides tools, training and professional guidance to advance entrepreneurs idea. In Israel, there are now about 250 accelerators - supporting programs for entrepreneurs, each with a different model aimed at a specific field. Some are subsidized by government, some are private, and some belong to academic institutions and more. There are also many programs that are not considered to be accelerators, but their purpose is to provide support to entrepreneurs in different frameworks and to make connections between all the parties involved in the entrepreneurial system. All these and more were presented to the participants in order to be exposed to different models and ideas and to form a bridge to assimilation in the source countries.
Application Requirements
The Course is designed for women and men, managers of accelerators and other entrepreneurial support programs, managers of community, as well as those working in governmental institutions and SME support agencies, private sector support systems for entrepreneurs and NGOs dealing with small business support and development. Special consideration will be given to candidates who work and support the development of entrepreneurs in their communities. Candidates should hold an academic degree in related disciplines, and have at least five years of professional work experience in related fields. A full command of English is required.
Application forms
Application forms and other information may be obtained at the nearest Israeli mission or at MASHAV's website.