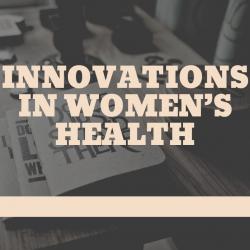 International Course on: Innovations in Women's Health
October 28 - November 16, 2018
Language: English
OBJECTIVE
The incidence of inequality in accessing health care services between men and women is a well-known phenomenon around the world. In many countries, women have no or limited access to health care. When we speak of women's health, we need to use a holistic approach. We know that women are not a homogenous group: they represent different ethnicities, cultures, and socio-economic groups, yet we can find common characteristics among them: exposure to poverty, violence, and chronic illness, sometimes little or no health insurance; they are more likely to die from heart disease, cancer, alcohol abuse, suicide, cigarette smoking, and obesity. It is important that health care professionals and all levels of government be aware of these disparities and find ways of reducing these health inequalities in women, especially those living in remote areas. In the next decades, the international community is set to focus on Universal Health Coverage (UHC) and the Sustainable Development Goals (SDGs) such as goal number 3 - "Ensure healthy lives and promote well-being for all at all ages". These goals promote access for all for safe, effective, quality and affordable medicines and vaccines. Both of these major global agendas deal with health, including its economic and social aspects. In building and strengthening health services and systems for women, these issues need to be taken into account with regard to Primary Health Care (PHC). This course focused on challenges in Health Care services, systems, and policies that affecting women and innovative approaches to tackle those challenges.
Application Requirements
This course is geared towards advanced and influential professionals,practitioners and policymakers involved in women health,as well as experienced representatives of the healthcare sector.Candidates should hold a senior position, an academic degree in relateddisciplines and have at least five years of professional work experience in related fields. Age requirements 25 to 55 years old. A full command of English is required.
Application forms
Application forms and other information may be obtained at the nearest Israeli mission or at MASHAV's website.